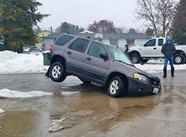 The best time to start thinking about winter is when the sun is hot and the pavement is dry. Here are 4 tips for getting commercial properties ready for the upcoming snow, ice, sleet, and nasty New England conditions.
Inspect the Property with a Qualified Asphalt Vendor-They know how to assess the parking lot, walkways, loose berm, weathered concrete, damaged catch-basins and potential snow storage areas. Missing something now can costs thousands later!
Protect Your Investment– Now's the time to fix up the lot! That means crack sealing to prevent sub-base damage! Once water gets into the cracks it expands and causes frost heaves and pot-holes. This type of damage can cause liability issues with pedestrians and vehicles in the winter and repaving expenses in the spring. In addition, re-lining the parking spaces makes them more visible during those grey days and slush-like conditions.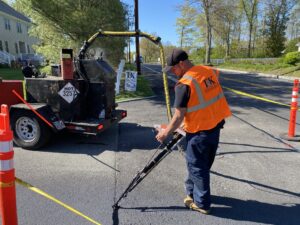 3. Look for a Reliable and Properly Insured Snow Vendor-Ask yourself the following question: Does your provider have "snow Insurance" referenced in their Certificate of Insurance? If not, you're looking at potential lawsuits if problems occur. Does the company "stand behind" their work? If the company you hired can't protect your company's reputation, then look for qualified companies before they are "sold out"!
4. Can They Provide Peace of Mind During a Snowstorm-Does your provider have snow removal experience, reliable equipment, quality service and a 24-hour hotline to serve your needs any time day or night? Properties that have a regular flow of tenants and employees need to use extra diligence in who they choose and how well they communicated with past properties.
As with any significant part of your property management responsibilities, be sure to work with a professional snow removal company to ensure the best possible outcome for your parking lot.