Our Commitment
Here at T&K Asphalt, one of our highest priorities has always been to stay focused on giving our customers the very best results – delivered as promised, on time and on budget.  Without exception.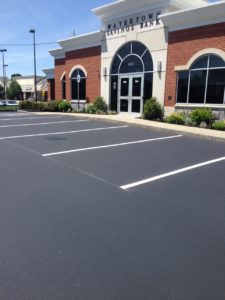 "We Make You Look Tremendous" is more than just a tagline for us; it's a commitment we make to each and every customer.
It's not easy.  We have to keep working at it.  But we know it's important to continually improve on the work we do and the way we do it.
This a commitment we make day after day – not just with our words, but with our actions.
Here are some of the ways T&K is able to honor that commitment …
Workmanship. We control every aspect of our work in large part because we use our own employees instead of subcontractors. Many of our employees have been with us for many years, even decades. This longevity brings a wealth of experience to every project.
Equipment. In this business, having the right equipment is critical.  We have more than 450 pieces of equipment – and they are all serviced through our 24/7 maintenance facility in Whitman, MA.  Investing in our maintenance facility is an important commitment ensuring our equipment is always running at full capacity and efficiency.
Customer Communications. We have project managers and foremen on-site for every project so they can oversee the job up close, make on-the-spot decisions and are always available to answer customer questions and discuss issues as they arise.
Employee Training.  This is an ongoing effort to keep our employees up to date on every aspect of their jobs. Throughout the offseason, we conduct training programs designed to help our employees be more efficient, develop a planning focus and foster a more cooperative work environment.
Safety Training. Safety is paramount to every job – and needs to be addressed in a pro-active way. We have a full-time Safety Director who provides safety guidelines, safety reviews and training programs throughout the year.  We look for every opportunity to improve safety for our employees, our customers and the public at large.
Employee Benefits. Having the highest employee retention rate in the industry isn't something that happens by chance.  We work hard to show our employees how important they are to us, and to provide them with the benefits needed to keep them on board for many years.
Employee Appreciation.  We recognize that our commitment to our employees goes beyond their working hours.  That's why we host a number of events throughout the year to bring together our employees and their families.  These events include Thankful Thursdays, Family Appreciation Day, our Holiday Party and our Fourth of July Cookout.