Our Inspiration
On August 8, 2016, T&K Asphalt founder Kevin Gosnell's life was cut short at the age of 48 after a courageous battle with ALS.  He leaves behind his wife, Kathy and three sons, Scott, Jake and Joey, and extended family as well as many friends and colleagues.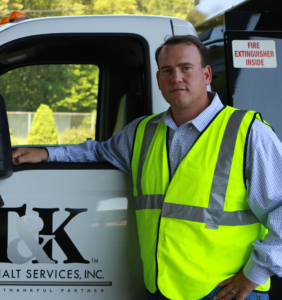 Just 15 months before his death – when he first learned of his ALS diagnosis – Kevin Gosnell did a very predictable thing.
He took action.
He used his remaining time to create what would become a lasting legacy – a non-profit organization called ALS One that is dedicated to raising funds and fostering scientific collaboration to accelerate the pace of ALS research, and providing support to others suffering from the disease.
Kevin had already proven himself in the business world having grown his two-person sealcoating business into the largest parking lot maintenance company in New England. It was a 30-year journey – a true business success story – thanks in large part to his energy, enthusiasm and leadership.
But ALS created a very different challenge.
Kevin knew he would never see a cure for himself, but he could use his business skills and network of relationships to bring awareness and much-needed financial support to the research effort.
He still had time to put in place a program that would eventually help others who may face the same diagnosis down the road.  ALS One has raised over $10 million and is now T&K Asphalt's core charitable partner.

To learn more about ALS One – or to make a donation – click here.
Aside from his family and friends, Kevin will be missed by all of us here at T&K Asphalt.
We continue to build upon Kevin's legacy – through the many customer, vendor and community relationships Kevin developed and nurtured over the years.
And, just as Kevin would want, we remain committed to all the people who work here at T&K.  Kevin would often say the employees are "our most important asset."  He wanted T&K to be a place where people wanted to work, where employees were respected and had opportunities to grow and learn and be a part of a larger family.
Kevin Gosnell will not be forgotten.  He will remain with us in our hearts as our inspiration for everything we do.