Our Company
It was 1987, when two childhood friends from Hanover, MA, decided to start a driveway sealcoating company as a way of earning money for college.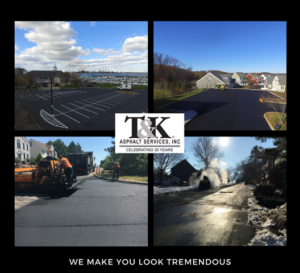 Ambitious as they were, little did they know that company would grow and evolve over the next 30 years to eventually become New England's largest commercial parking lot maintenance company.
Today, T&K Asphalt provides commercial paving, sealcoating, line striping, concrete, construction/repair and snow removal services for business owners and property managers throughout New England and across the United States (through our National Division partners).
On the residential side, T&K offers premier driveway sealcoating services in southeastern Massachusetts (including the South Shore, Cape Cod and MetroWest).
Based in Whitman, MA, T&K has built a reputation for excellence in the paving and sealcoating industry.
Here's what else you should know about us …
An emphasis on safety.  Recognizing the need for safety on the job and with the finished product, T&K has a full-time Safety Director who oversees all safety matters – enforcing safety guidelines, conducting onsite inspections and presenting regular safety training sessions.
A national partnership network.  As a way to serve customers across the country, T&K belongs to The Pavement Network, a national network of top pavement contractors.  This allows us to better serve customers with ownership in properties throughout the United States.
More than 450 pieces of equipment. With a growing fleet of more than 450 pieces of equipment, T&K uses its own maintenance facility to provide 24/7 servicing and provides onsite servicing for equipment in the field.  This is a major commitment by the company to ensure all of its equipment is running at full efficiency and capacity.
An industry leader in employee retention. T&K employs more than 125 people that includes many year-round workers – a rare occurrence for a largely seasonal business.  The company takes great pride in the longevity of its employees boasting the highest employee retention rate in the industry.  Many have been with the company for at least 10 years, some for more than 20 years.  In fact, T&K's very first employee, who was hired in 1992, is still with company today.
Opportunities for self improvement.  Through the T&K Training Academy, employees have the ability to improve their skills for both self improvement and new opportunities within the company. To date, T&K has conducted more than 2,000 hours of training.
A sales internship program.  In an effort to prepare college students for a career with T&K, our sales internship program gives students an early entrance into the business so they can hit the ground running upon graduation.
The T&K story has seen many notable achievements over the years, and we see no sign of letting up.